About it
Do you know that a non-turning ON Xbox One is majorly reasoned with overheating issue, 7 out of 10 times? If Not, then you know now! This is a major issue why your Xbox One is not ready to do something for which it was born and that's, make us play hardcore games. Okay, so you love your Xbox One as much as your mom loves you, why don't you find out the reason behind this over-heating of console?
Also Read: Xbox One Won't Turn ON Issue: Easy Fix.
There are majorly 4 reasons behind having an almost broke down gaming console, and those are:
Hinderance in exhaust grill
Thermal paste failure
Console placed under direct sunlight
Room temperature is too high
We shall discuss these 4 issues one by one, so that we can both diagnose and resolve the pinpoint reason behind the heart-breaking Xbox One overheated and won't turn ON issue.
# Hinderance in Exhaust grill
Most of the time you will receive the Xbox One overheating and won't turn ON failure because either the place where the gaming console got placed, is too packed and the air vents are not able to throw the hot air outside properly and hence the Xbox One is overheating from inside.
Or the vent grills themselves are chocked with dirt and dust, and are now circulating the hot air inside, which obviously is more damaging than anything.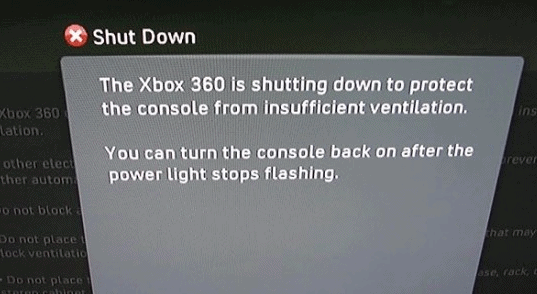 Also Read: Xbox One Power Brick Blinking Orange and White.
Let's solve this issue by following the steps:
Clean the vent grills every week both from outside and from inside to make sure proper air ventilation.
Keep the Xbox One is an open space for proper air circulation.
Listen to the fan voice and when you notice something fishy, immediately take action otherwise you may lose your loving console forever.
# Thermal Paste Failure
This is getting a bit technical now, we would like you to consider this step at the end of all the 4 methods, as this will include opening and re-pasting thermal paste, which obviously is a tech job and if you think you cannot do that, just don't go for it. Take your Xbox One to some professional who will do the needful for you.
For those who know they can, follow the instructions:
Open your Xbox One screws with dedicated toolset.
Check if the thermal paste is spread or still standing firm, if that's already spread, go to the third step.
Find a thermal paste online for your Xbox One and a pair of surgical gloves.
Remove the layer of the previous paste completely and now apply a thick layer of new paste exactly on those lines where the last paste was held.
Now close and nut the screws properly. Wait for 24 hours to let the thermal paste settle down.
After this surgical treatment of the gaming console, there is no way left your Xbox won't turn ON. Enjoy!
# Console Placed Under Direct Sunlight
There are no steps to solve this issue because this issue was not supposed to be happening, if by any chance you are doing this, just shift your Xbox One on a place away from sunlight and you are good to go. Thank us later.
# Room Temperature is too High
The Xbox One overheating issue may arise because maybe the temperature in your room is too high for the console. This has been observed that if your Xbox One keep turning OFF every then and now, then this issue is the prime reason behind it. To stay away with this, either you install an AC or make your room's ventilation proper, that would be much better for your own health too.
Team PhoneGnome have tried our level best to convey the sharpest of our knowledge about "Xbox One Overheating and Turn OFF" issue. If you think we have missed out something or got any question, please let us in the comment section down below. Thanks.