A lot of times our iPhones run into trouble and might need to be restored or it might just be because of our personal wish. In such a time, we might seek the help of recovery mode. But what if it doesn't work too? In such a case, you might start to worry over what to do next but it isn't really such a big deal. Handling this issue just needs a little knowledge on the topic.
There are a lot of websites out there trying to provide information on the topic but most of them have inaccurate and insufficient information available which makes the resolution much more challenging. Even Apple's original support website doesn't have complete information which makes it difficult for the users to process it.
This issue may arise due to hardware glitches as well as software glitches and isn't a very problematic thing to experience as it has some speedy resolution. All you need to do is follow the information correctly and you might be able to resolve the issue.
iPhone Won't Restore in Recovery Mode
#1. Update iTunes  
Sometimes it may happen that your iTunes stops working correctly, this can be resolved by simply providing iTunes a software update on your PC. This happens a lot when your device is running an older version of the iTunes software so sometimes updating it to the latest available version will be helpful.
Checking for updates on a Mac
This can be done quite easily by following the given step: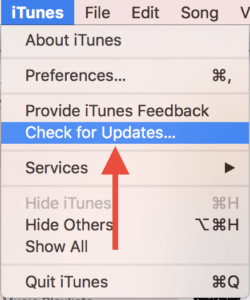 Launch iTunes.
Click on iTunes at the top toolbar on the left.
Now select "Check for updates".
Now iTunes will check and notify if you need to update the iTunes on your Mac or not.
Checking for updates on a Windows PC
The process isn't too different so just follow the given steps:
Launch iTunes.
Click on the "Help" button on the windows menu bar.
Then from the drop-down menu, select "Check for updates".
Now just like on a Mac, iTunes will check for any available updates and notify you through a prompt.
#2. Rebooting your PC
This is obviously the simplest solution to any minor software performance glitches. By rebooting your PC, you allow everything to be set back to normal as the PC reboots with a fresh palette. Thus, rebooting the PC and trying again might be a great option too.
#3. Hard-resetting the iPhone while plugged into PC
This becomes necessary when your phone stops responding or runs into a minor software glitch. At such a time, cutting off all power from your device in order to restart it freshly is a great option. This simply means all the power running through the device from the battery is cut off so the device goes off completely.
In this case, we will perform this hard reset while keeping the iPhone connected to the PC. To carry out this task, follow the given steps depending on your iPhone:
iPhone 7 and iPhone 7 Plus: hold the volume down button along with the power button at the same time and release them when you start seeing the Apple logo.
iPhone 8 and newer: in a quick manner, press the volume button and release it, then press the volume down button and release it then hold the side button until you see the Apple logo on the screen.
#4. Try using a different lightning cable, USB port or computer
The restore might be declined due to certain faults in the lightning cable, the USB port or even the Computer system that you are using. So in order to avoid this issue, try changing the USB cable at first and then try checking different ports of the given computer. If it still doesn't work then try using a different computer itself.
#5. Try DFU Restore
When everything else fails, DFU restore can bring you the right treatment in your hand. You can rely on it as it will completely erase your device and give you an entirely clean slate. This will help any user to get through the toughest hour with utmost easy due to the tendency of DFU restore to provide exactly what a user needs. It may even provide you a repair that might fix the restoration ability of your device.
I hope I was able to help you understand the issue and its major and minor fixes. If the error still hasn't resolved then there might be a hardware issue with your device which may need to be checked by a technician. Try taking your iPhone to an Apple technician or try contacting Apple support. If there are any further queries, please drop a comment below. If the content was helpful, please like our post.