Microsoft's Windows 10 is currently the most loved and installed operating system in the world's computers. The Windows10 is serving us daily and making our lives easier without asking much in against.
We can perform many tasks with the help of windows 10 operating system, even making meet and listen to your loved ones digitally is one of the major task windows do on a daily basis.
This requires both an excellent performance from our operating system and of course a working mic. Did we hear it right, mic? Looks like your microphone is troubling you. You are able to use your microphone in apps that require support for their operation.
Also Read: Why does Google Chrome keeps crashing?
Maybe you are planning to blame it to someone and tell them that they must have dropped your computer and now your microphone is not working all because of that. Don't plan about putting foul accusations. Keep Calm and Trust Phone Gnome.
Reasons For Windows 10 Microphone Not Working, With Solutions.
There could be as many reasons for this microphone failure as you can think of. Ranging from a stubborn hardware issue to a complex software problem, this failure can share its part.
However, we have shortlisted some reasons that are the most common which makes your microphone stops working. The issues are discussed in detail and solutions of them are written in a proper manner. Please read below.
# Check Permissions For Microphone.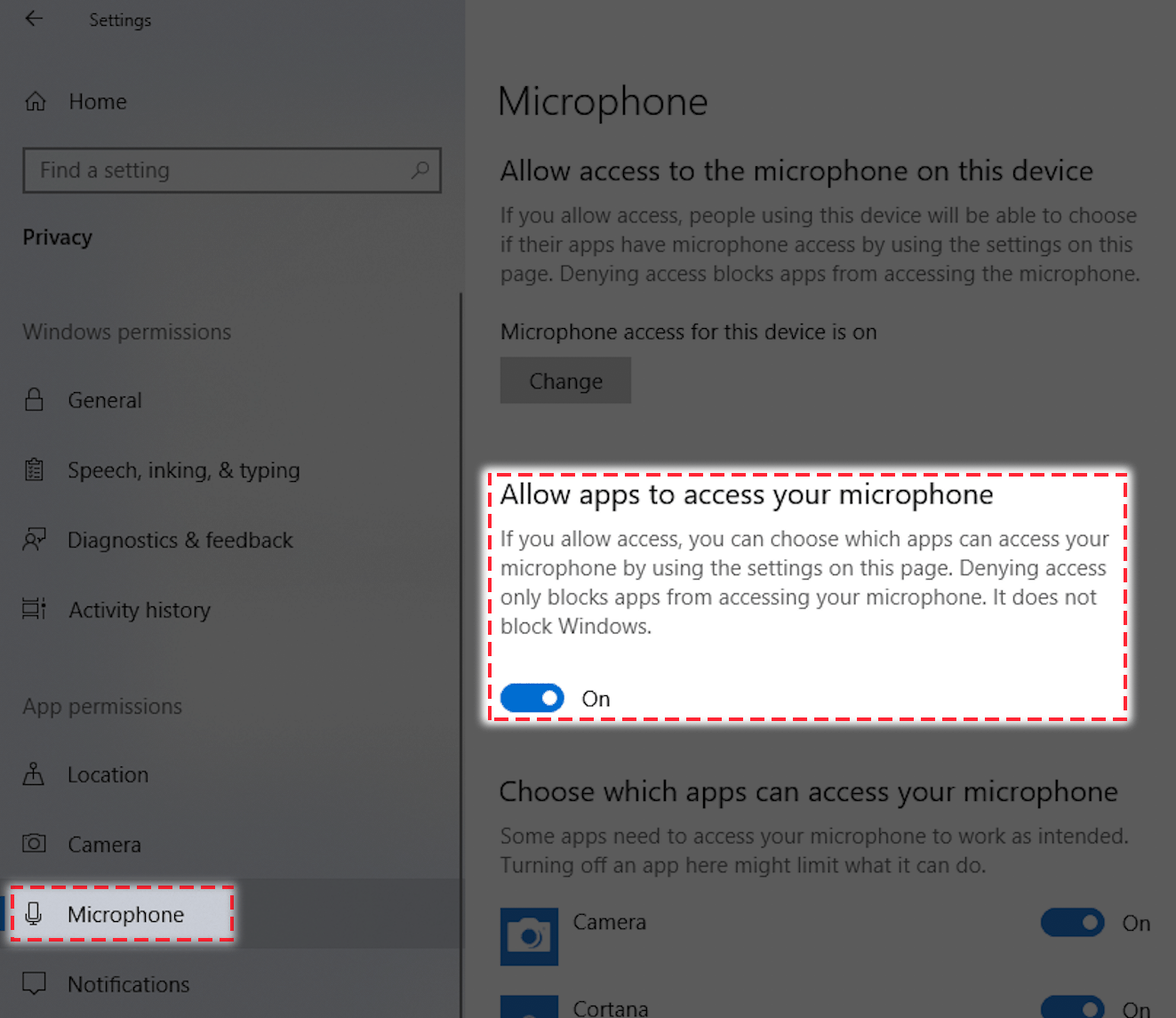 This issue may arise due to a simple reason of not having proper permission to use the microphone for the particular service you are using. Firstly check if the microphone not working issue is arising for a particular service or platform and working for the other one.
In such a case, troubleshoot using the following steps.
Step 1: Click the Windows Start button.
Step 2: Select the setting gear present on the extreme left of the start menu.
Step 3: Scroll down n click on the Privacy setting tab.
Step 4: Focus on the left side menu, scroll down and find for Microphone in it. After finding it, select it.
Step 5: Now see if the toggle of the microphone is on or not. If it off then turns it on and get back to the same platform where you were not able to use the microphone and check if it's working now.
Considering that the toggle is on, we are forwarding to the next steps.
Step 6: Scroll down and find for the service platform you were having this microphone problem with. Allow it to use the microphone by sliding the toggle on the right side.
Now you can use your microphone.
# Go For A Detailed Check-Up.
This method should be applied after completing the above procedure. If you skip the method written above to this one, there will is no point to use this method.
This is practically the wholesome deep check-up of the microphone of your computer. To do so, read and follow the steps written below. This solves the microphone not working issue for a maximum of the cases.
Step 1: Press the Windows Start button.
Step 2: Write "Control Panel" in the search bar and click on it to select.
Step 3: Click on the Hardware and Sound option in the menu.
Step 4: Now select the Sound option in the new menu.
Step 5: Look for the top menu in the pop-up window of sound. Here you will find a Recording tab. Click it.
Step 6: Here you will find the Microphone. Double click this option.
Step 7: As you can see there are two sliders on the screen. Stretch these sliders to the max and click OK.
Exit to the home screen by closing all the windows, now use the platform you were facing trouble in. Now you can have your microphone service back as working.
# Download The Pending Update.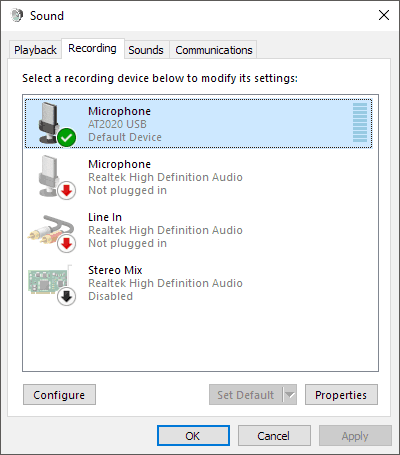 Windows 10 services keep updating themselves to work according to the global requirements. Sometimes these basic services develop such updates which are very important for the operations.
In such cases, Microsoft decides to make the particular service or software stop working till you update it to their newer version. Follow the steps and troubleshoot this microphone issue.
Step 1: Click on the Windows Start button.
Step 2: Find and select the Device Manager option.
Step 3: Click once on the Audio Inputs and Outputs option.
Step 4: Right-click on the new slid Microphone option and select the Update Driver Software tab.
Step 5: Click the Next tab 3 times on this new pop up window and install the update to the microphone.
Now you can use your microphone service wherever you want.
# Reinstall The Service Driver.
Sometimes these all troubleshoot methods fail as the software running the microphone service goes corrupt. In such a case, there is no option left but to reinstall the software all over again.
To reinstall the microphone software, download the service driver from https://downloadcenter.intel.com/download/28433/Realtek-High-Definition-Audio-Driver-for-Windows-10-64-bit-for-NUC8i7BE-NUC8i5BE-NUC8i3BE
If you are unable to use your microphone even after applying all these methods then there are major chances that its a hardware related issue. I would recommend you to visit a tech store near you and not to start opening the gadget all by yourself without knowledge.
I hope I could address all your queries and now you can easily resolve the How to fix windows 10 microphone not working issue. If you have any further doubts, you can visit or contact your service provider or you may leave a comment below. Also, please leave a like on the content if it was helpful. And do tell me about your experience in fixing this issue, in the comment box.