How to Unlock Android Phone Without Code
How To Unlock Samsung Phone Lock Password: We are here to provide the best solution for how to unlock Samsung phone forgot password through different methods. Samsung is one of the best and famous mobile. This has come up with the most innovative and advanced features as well as functions.  The most important reason why people prefer to lock their device is, to secure from outsiders and also from small kids. Samsung mobiles generally provide security through different options such as swipe, pattern, Pin, Fingerprint, and many others.
One can protect their confidential data and images from strangers by providing the password in the above formats. To stole the mobile also, a person has to think twice as we can locate them easily. For suppose, If the user forgot Samsung password, then what will be the exact solution to solve further. Or else if anyone goes to reset the password on Samsung phone, how will you solve it. Most of the people are unaware of these problems encountered.  So that users started searching for an effective and efficient method to go for  Samsung password reset. In order to avoid such problems encountered, we here tried and tested the methods to bypass and provides you the information showing in various methods to solve for how to unlock the Samsung phone lock password.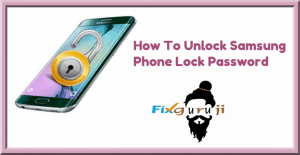 Different Methods for How To Unlock Samsung Phone Lock Password:
These are the different ways for Samsung forgotten password, provided as because people can solve by looking at the below methods and steps for solving the problem encountered in an easy way.
Has to use the Find My Mobile feature on Samsung mobile.
Android Device Manager to ByPass Samsung Password.
dr.fone- Perfect Android lock screen removal.
Pattern Password Disable and custom Recovery.
Delete the Samsung Password file using ADB.
Other methods.
Use "Find My Mobile Feature":
Most of the Samsung devices have come up with Find My Mobile Feature. This is an easy way to unlock your Samsung forgotten password issue raised by creating an account and registered to it. The following are the steps to follow for Samsung forgot password.
The very first step is setting up your Samsung account and register without any failure.
Then, go to Lock my Screen button and click on it.
Have to enter the new pin in the first field.
At last, click on the lock button available at the bottom.
Finally, within a fraction of seconds, can change the lock screen password to the new pin. And one can unlock the device with that new pin on your Samsung mobile.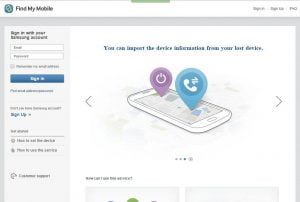 Once you login to the find my mobile app, then you will see the page like above, there you need to register and get your account. This app will be more helpful when you lost your Samsung device. This feature is mainly applicable for android smartphones, you can easily unlock Samsung phone lock password with this without any data loss. You can even try this for free. You can also check how to fix Samsung galaxy s6 won't charge or turns off suddenly.
Android Device Manager to ByPass Samsung Password:
Before going into the process or steps for how to reset a Samsung phone forgot password, has to enable the Android Device Manager in your Samsung mobile. The following are certain steps for how to reset a Samsung phone that is locked in an effective way.
Firstly, you have to visit the official website of the Android Device Manager on your smartphone or PC.
Now, log onto your google account which is used on the same locked device.
One has to choose the device which you are going to prefer for unlocking mode in ADM interface.
Click on the lock option.
Then enter the password excluding the recovery message that appeared on the screen. Select on Lock again.
It the process gets successful, will get the confirmation appearing with ring, lock, and erase buttons.
Finally, you will get the password field to appear on your smartphone as such one can enter a new password so that phone will be unlocked without any failure.
At last, go to the lock screen settings on your Samsung mobile and disable the temporary password.
In this way, you can set the password for how can I unlock my Samsung phone if I forgot the code.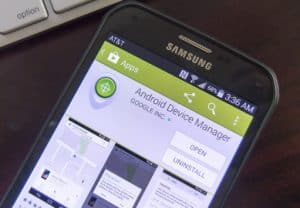 dr.fone– Perfect Android lock screen removal:
Once after trying the above two methods, even though if you face the same problem can opt this method for how to unlock the android phone without code. Likewise considering professional support such as including with dr.fone: Lock screen removal and nowhere tools are needed to do it. This is the easiest method to get access back to your smartphone. And one can follow these steps to get access back related to either pin or pattern or fingerprint or any.
The very step is you have to download the dr.fone from the link we provided below.
Go to more tools and select Android lock screen removal.
Then, connect your Samsung smartphone to your PC with the help of the cable and click start.
Turn off your mobile, and hold the home button, volume down and also the power button, and instantly press the volume up button for getting the download mode.
So that can download a recovery package for your device.
Once the download process gets completed can unlock the device without entering the password.
And this process of getting free from the issue does not lead any problem or data loss.
Pattern Password Disable and custom Recovery
Before going into this method, one has to know the actual meaning of custom recovery and root. Has to install any kind of the custom recovery.  Also, it requires an SD card on your phone to move from phone to SD card as because it is the only way to transfer the files directly when the device gets locked. The following are the steps for pattern password disable and custom recovery.
Download the file from the below link provided.
Simultaneously, insert the card on your device.
Then, restart your device to recovery mode.
Finally, Flash the card on you are mobile and restart the phone.
At last, you are phone will boot up excluding the lock screen.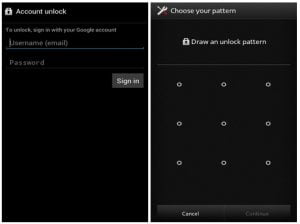 Delete Samsung Password file using ADB:
This is another best among all the methods to delete the password file through ADB. This can be done only when you enable the USB Debugging and allow to connect with the help of ADB. To unlock the Samsung lock screen, it should satisfy certain requirements. The following are the steps involved and shown below.
The very first step is to connect the device to PC through USB cable.
Open the command prompt in ADB directory.
Type adb shell rm /data/system/gesture.key  and then press Enter.
Finally, restart you are mobile and can access the device. One should make sure to set new pin, pattern, password before proceeding to reboot.
Other Methods:
This is as simple as that. Have to take friend's or try any mobile by making a call to you are a device. And then press the back button without disconnecting the call. So that you can access the device without any failure.
Go to settings -> security -> remove the pin or pattern or any of the code which you have been provided. At last, will ask you the correct pin that you don't know, one has to guess and try various combinations that you can recall.
So finally to avoid forgetting your password or PIN next time, one can make sure to make a note about the pattern or numbers on a text file or paper to keep them safe and secure. If you have provided the Samsung lock screen pattern, PIN, password, and fingerprint, simply consider using dr.fone – Android Lock Screen Removal. It is a professional tool that can help to remove all the fingerprints, patterns, and password lock screens, and so on without losing any data on your phone.
Conclusion
We are here in providing the solution for How To Unlock Samsung Phone Lock Password. The above-mentioned methods will definitely help you either to locate the mobile or to reset the password without any failure. If you have any doubts, comment in the below section. Visit Fix PhoneGnome for more information.