Each mobile must be particularly configured to use some internet settings, those are called APN settings. Otherwise, you experienced data connection issues, such as the inability to send MMS or use mobile data. Having the right mobile APN settings makes a difference on your Mobile device Network. Here we detail you how to change T-Mobile APN settings for an enhanced experience! Every carrier networks have APN settings, to distinguish their gateway between the "internet" and the "cellular network". A correct T Mobile APN setting on your phone helps you with cluster free usage. Perhaps, you may not be able to send or receive MMS (Multimedia Messaging Service) without proper APN settings. Also, it is essential for connecting the device to the internet or uses any other key T-Mobile features.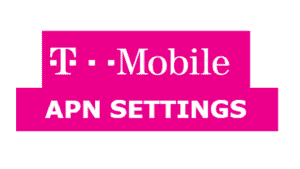 Here we detail you how to Update APN settings properly to access that high-speed internet that you need. And trying to fix T Mobile Data connection issues to avail the faster internet speed back.
T Mobile APN Settings – Step by Step Configuration
APN/GPRS/ MMS Setting will help you to fix your network data and GPRS and MMS settings related issues. We updated the most recent and correct T Mobile APN settings for your smartphone, these values are valid for all mobile versions. These APN settings will allow you to connect to the 3G/4G or LTE network.
If you are using T Mobile service, then please use the following APN values:
APN Settings

APN Name
T-Mobile
APN
fast.t-mobile.com
Proxy
Port
Username
Password
Server
MMSC
http://mms.msg.eng.t-mobile.com/mms/wapenc
MMS Proxy
149.254.201.135
MMS Port
8080
MCC
310
MNC
260
Authentication Type
APN Type
Default,supl,mms
APN Protocol
IPv6
APN Roaming Protocol
Bearer
MVNO Type
Tap Menu > Save
Pick the name we've just created
Next, to your signal bars, you'll now see 4G, 3G, H, E or G indicating that you're now connected.
Alternative APN Settings

APN Name

T-Mobile

APN

fast.t-mobile.com

Proxy

Port

Username

Password

Server

MMSC

http://mms.msg.eng.t-mobile.com/mms/wapenc

MMS Proxy

MMS Port

MCC

310

MNC

260

Authentication Type

APN Type

Default,

supl

,

mms

APN Protocol

IPv4

APN Roaming Protocol

Bearer

MVNO Type
Save the APN once you've entered the settings provided by your carrier.

Click on the menu option (the three dots in the upper right) and click "Save" button.
How to check APN settings:
For connecting the mobile internet for your cellular phone, please use these T-Mobile APN settings. Also, check out the values you should use
T Mobile APN settings for Android: Go to Settings > Wireless Connections > More > Mobile Networks > Access Point Names (APN)> Tap the Menu button (this could be the lower left soft key, 3 dots in the top right corner, or the word 'more') > Tap on New APN.

T Mobile APN settings for iPhone/iPad: Main Screen > Setup > General > Network > Mobile Data

T Mobile APN settings for Blackberry: Step by Step configuration for you blackberry
MODIFYING APN SETTINGS:
To get the internet connection with the best speed on your mobile device, you need to install APN settings properly and edit it. This is the best possible way to increase T Mobile slow internet speed on your handset. Usually, the network providers provide the correct APN settings based on the data plan and the type of connectivity. Moving further, users can update APN settings in the internet settings option on mobile. All they have to do is provide the Access Point Name, given by the customer support.
New Network Settings
Important Note: Once your APN information is saved, head back one step and activate new APN settings. Your phone may lose its data connection for a while when it gets connected to the new network using the new network settings. Restart your phone if needed, if you didn't get a connection after a few minutes.
In few cases, your provider may have two APNs if they use a separate gateway for MMS or other data. You need to enter other APN too if you want to separate from your data plan. However, you'll find a full explanation of both APN settings on your carrier's support site. Yet, one APN is all you need for most of the cases.
And that's it! Now your phone is all set ready for calls, SMS, MMS and data. Now be sure to set up any Data Saver or warning settings your phone might have to monitor how much data you use and if you are getting close to your allotment.
CONCLUSION:
Here we provide the best of the available info on T Mobile APN settings and how to execute it. You can now avail the high-speed internet provided by Network provider with just updating the right APN settings. If you have any queries, do leave them in the comments section below.