Task Manager on MAC
Unable to open task manager for mac? Are you new coming from windows to Mac OS X? And looking forward to opening the task manager on your Mac? Well, do not worry as I am going to help you. Also, the current write up helps you to open and end the task very well. Mac usually consists of its own task manager called by Activity Monitor. This functions similarly to the windows.
I mean to say as you can view, manage, end tasks, applications running background without any fail. However, most of the Mac switches continue to verify the utility as the name of the windows task manager. Is there a task manager for mac? Never go to a conclusion as the Mac do not have a task manager. Come to real-time!!!! As in the Mac, task manager is known as Activity monitor where every user needs to recognize for using forward.

How to Open Task Manager on Mac in Simple Steps
Follow the below instructions to open the task manager on mac very well. As I said before, the task manager is equivalent to the name of Activity Monitor, provides complete information. This is all related to CPU, memory and much more. There are two methods where you can open and end tasks successfully. Let us go and learn these simple steps.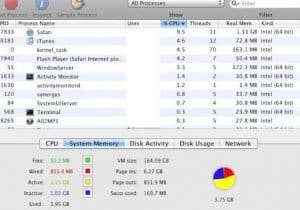 Open Activity Monitor and End task.
Connect Activity Monitor to Dock on Your Mac
Access the Activity Monitor
How to Get Task Manager on Mac
Well, this is the simple and easy process. But when you not like to go such a long-lasting step, directly connect to the dock which is shown in the next method. If you see for the direct and simple steps, follow the below instructions straightforward and end all the respective tasks.
In the first step, tap on the finder icon, available on the left corner of the doc on Mac.

Now simply click on the applications showcased in the form of a list.
Now in the application folder, click on utilities and open it.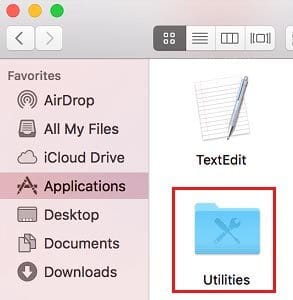 There again, tap on Activity monitor available in the form of a list.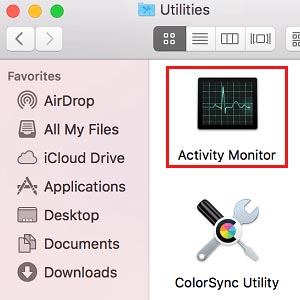 Finally, you will be able to see all the details and the information regarding CPU being used by all the different apps and service running on the Mac.
Connect Activity Monitor to Dock on Your Mac
This is one more process that helps you to end tasks in a very short notice period. This is all to avoid of opening Activity Monitor in a long way. So simply pin the doc to the Activity monitor and follow steps.
Firstly, open the Activity Monitor which is visible in the dock.
Right click on it and launch the menu without any fail.
Go to options available in the form of a list and then click on dock option appeared in the side menu bar by simply tapping on its icon.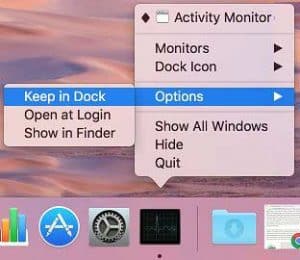 That's all. Finally, you can see the Activity monitor through the dock and able to end the tasks very well.
Access the Activity Monitor
As I said in method one of how to open task manager on mac process, in the same way to open Activity monitor. Now we are going to learn how to access Activity Monitor in a simple way. Well, you can use Spotlight as a keyboard shortcut for quick and easy access.
Click on Command+Spacebar to bring the Spotlight search bar without any fail.
Now there you have to type Activity Monitor.
Simply go tap on return key when the task manager in the spotlight result.
Finally, can manage and manipulate all the tasks without any fail.
This can be sorted with the help of CPU or else sort by name, memory usage, process Id and also can use search box available in the right corner of the window. All this can able to locate all the files that match your typed name or else characters.
I can tell you this as more powerful because, it shows all the applications running the active user and displays the system level tasks, kernel tasks, daemons, processes and much more will be shown to you. If it is running somewhere in the background, can see on this Activity monitor without any fail.
Killing the respective Task through Activity Monitor

Within the Activity Monitor, simply click on the respective task that you likely to end and then click on Quit Process available in the window. So that can see a warning prompting as shown below.
Assuming you have selected the process/application you want to end, click on the "Quit" button.
Hence, If the app is not responding,  then simply click on the "Force Quit" button instead killing immediately the whole process how to open task manager on mac and stop the application running with no warnings.
Get System Stats, CPU, Memory Usage, Network, and Disk Information from Activity Monitor Successfully:

Looking forward, how can you get the System Stats, CPU, Memory Usage, Disk related information and much more? Well, by seeing at the bottom of the Activity Monitor, can get the information without any fail. You need to click on the tabs to see the data relating to CPU, system memory, Disk Activity, Disk Usage, Network Activity and its usage.
Like to see live on screen, then minimize the current Activity Monitor, right click on the dock and this enable various tasks right in the respective dock which shows live graphics instead of a standard icon. You will have a chance to set them specific to CPU, network, disk activity and also the RAM usage.
Hence, These are the things you can do with the Activity Monitor available in your Mac OS X. So never worry about how to pull up task manager on mac or any other. Because simply follow all the above steps and end the task to enhance speed in a more accurate way.
Simple Tip: Till you get the grip of using a spotlight in apple task manager, never go for how to open task manager on mac process because at times, might go wrong. So, therefore, take appropriate action before stepping forward.
Wrapping Content
As a result, I hope you are clear about how to open task manager on mac and if you get any doubts, contact us. We reach you in a very short time period. Also, like how to bring up task manager on mac article,  share with friends and also on social networking sites without any fail. Thank you. Therefore, Come back to PhoneGnome for more information.