How to force quit on a mac
How to force quit mac in a simple way? Are there any shortcuts to do so? Is the app failing to respond to any of the input?  If in that case, you need to forcibly quit the application. Today I am going to explain how to force quit mac in simple and most possible ways.
Whatever might be, with the help of Mac OS X, you are going to find a way thatforce quit mac out the app very well. There are shortcuts which help especially in the emergency situations. So shall we go right now to learn and perform force close mac? If yes here we go.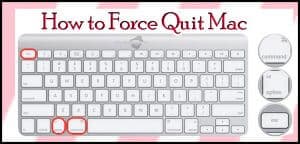 How to Force Quit Mac With Simple Methods
Follow the below process which helps you mac force quit very fast and also in an accurate way. To learn them for how to force quit mac, here we go.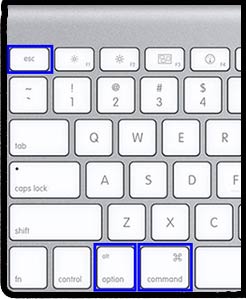 Use Keyboard Shortcut Force Quit applications.
Force Quit Currently Active Mac App through Keyboard.
Force Quit apps from the dock.
Do force quit from Apple Menu.
Use Activity Monitor
Use the Terminal and Kill Command
Usually, to quit the mac app normally, You need to choose Quit from the app's menu bar or else you have to tap on Command (⌘)-Q. Still, if it doesn't quit, follow the instructions given for above simple methods.
Also Read: Best web browser for Mac.
Use Keyboard Shortcut Force Quit Applications
how to force quit mac? While starting with the best and easiest will be system-wide force quit function. All the thing you have to do is tap on Command+Option+Escape from anywhere. This is all to bring up the simple Force Quit Applications window and click on the respective app name to select. However, it is all followed by clicking Force Quit button and then ending it up- immediately.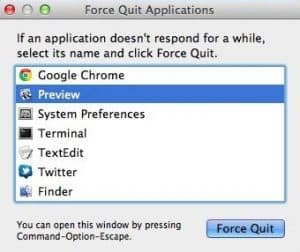 As such the force quit keyboard shortcut will act like the best combination while quitting apps in Mac OS X. Make a note as all this can access through the keystroke itself. Just select and mac force quit the multiple apps when it is necessary.
Force Quit Currently Active Mac App through Keyboard
how to force quit on a mac? In order to do so, hold the Command+Option+Shift+Escape for a second or till the app get discloses. Be sure as you really looking forward to forcing quit. Because whatever the app, if you perform that command, it quit in several seconds.Usually, this might know by several users but is the quickest method compare to others. All the users reviewed it as very good command and much helpful for force close mac.
Force Quit apps from the dock
So now we learn how to force Quit apps from the dock in a better/ simple way. To do so, Choose Option+Right Click on the app icon in the respective dock.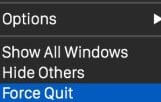 All this to bring the option and selecting this will kill the app without any confirmation. Doing this help you to quit the respective app from the dock in a more easy and possible way.
Do force quit from Apple Menu
how to force close on mac? This is one more possible shortcut key used to force quit successfully. Just simply hold the shift key and then click on Apple menu in order to find Force quit Application name.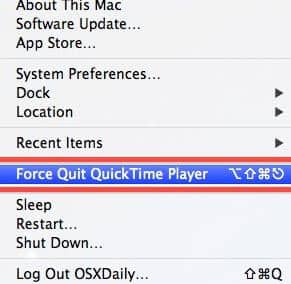 This process is bit easier but not most powerful method. At times, the application is completely unresponsive and menus will be inaccessible. Never mind and hesitate to use this easy and simple process.
Use Activity Monitor
Before using Activity Monitor, what exactly it means? How does it help us? The Acti8vity Monitor is the most powerful way that employes to force quit any of the application/task/daemon/process running on the Mac OS X. Unable to get?/ have a doubt on its whereabouts? All this can find it in/ Applications/ Utilities/ or open through Spotlight with the help of mac force quit shortcut Command+ Space.

Now type Activity Monitor and its return key. As such, using this is very much easy. Select the process name or ID which you prefer to kill and then tap on quit process. finally, you are done!!!!
Use the Terminal and Kill Command
how to force quit an app on mac? This might be the last method which helps to quit by issuing all the low level kill command. And now launch the terminal where you are required to type the following force quit mac shortcut.

[su_note]
killall [processname]
[/su_note]
For instance, let us consider a small example, "killall Safari", that works to kill all the instances of the respective Safari process. Well, if you know the exact process id, and you likely to find with the ps or 'ps aux' command. Only the thing to perform that process, and finally apply the below command.

[su_note]
kill -9 [pid]
[/su_note]
All these commands will take out all the files like infected one, honoring versions, window Restore, Autosave and are cautious relate to potential data loss. So finally, simply have a look and pick your own method to make it force quit successfully.
Final Words
I hope you are cleared of all the details how to force quit mac shown here. For instance, if you have any doubts how to force quit in mac, simply drop a comment on the below section. Also, like the article, share with friends/ word of mouth/ also on social networking sites without any fail. Thank you. As a result, Stay connected with PhoneGnome for more updates.