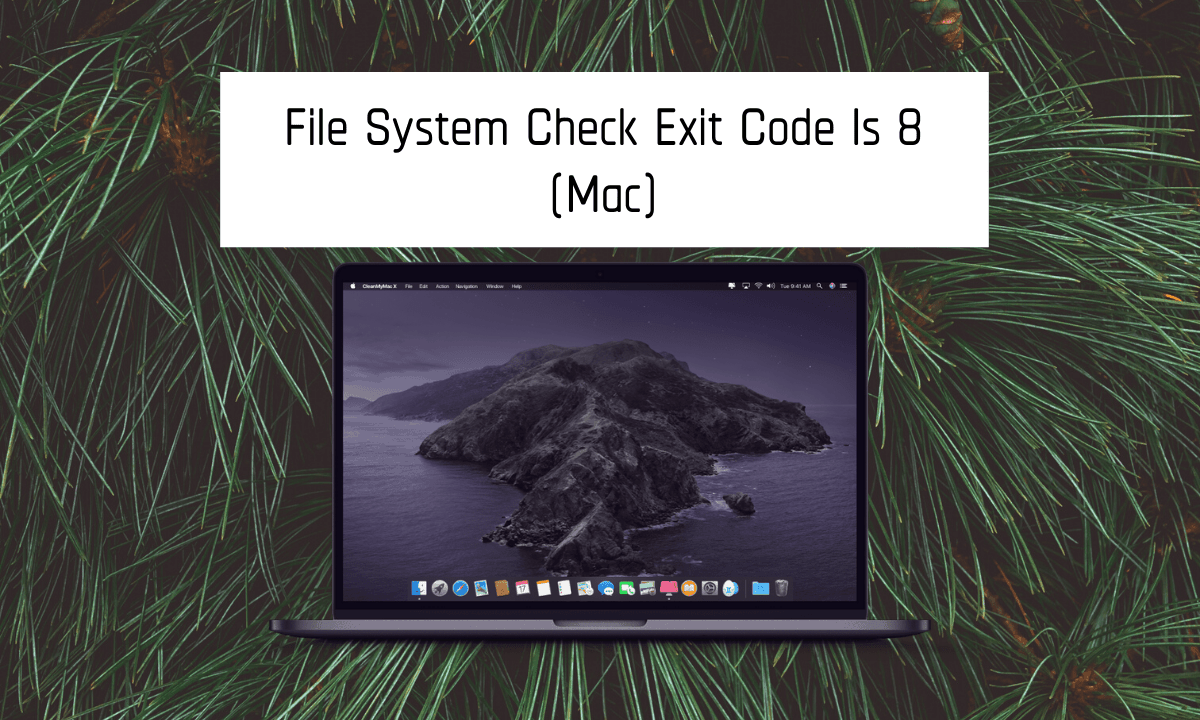 Apple being a world leader in technological device development and manufacturing, has created a number of devices for its users that provide the perfect combination of power and style. These devices power brilliant ideas and execution. But it gets really frustrating when they run into trouble.
Although, Mac OS X is built with really powerful security protocols and functions, which is why it barely needs any repair. It's been loaded with various disk utilities too, and one of the utilities preferred the most by users is first aid.
First aid basically checks and repairs file system errors and it can be used if your device starts showing unusual behavior, displays cryptic error messages or crashes frequently. It can be used to detect the errors occurred and in most cases, even fix them. But its capability is somewhat limited and if it fails to fix a certain issue then, other utilities must be used to resolve it.
When checking for system errors, commonly an exit code 0 is found which means that there are no existing errors. But if we run into an exit code 8, it means that there exists a corrupted file system and this can occur at an internal as well as external hard drive. It can occur due to numerous reasons like sudden power failure, virus attack, etc. but it's not quite complex to deal with, although some of the ways to resolve it may cause the loss of data.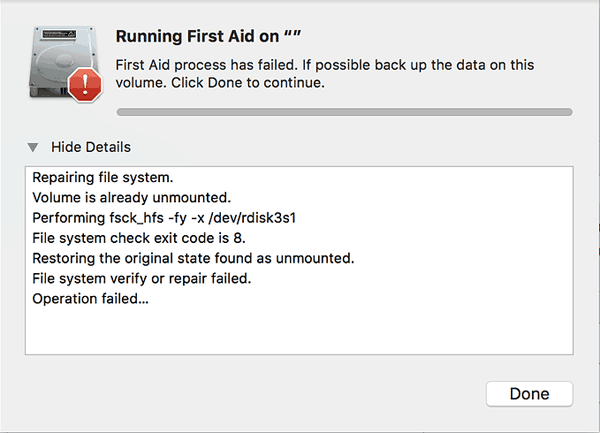 Methods of Solving File System Check Exit Code is 8 Issue
Make Use of First Aid in Disk Utility
Disk robustness check can be implemented through disk utility on Mac OS X. Major responsibility has been taken by Apple to refresh and re-build the aforementioned utility's interface on Mac OS X 10.11. Following which, it may seem a bit different from the earlier version. In order to execute it,

Press Command and Space, then type disk utility and press enter. If you need to launch it in any other way, navigate to the given application folder and double click on utility folder and then select disk utility.
Now select the partition named Mac HD or Macintosh HD. And then select the First Aid button.
Then, click on Run and if it encounters any errors, it will fix them automatically.
If you wish to view the error information, select show details to see the details.
You might see messages like check exit code for Storage system is 0 and check exit code for File system is 0. So basically exit code 0 means that there are no existing errors.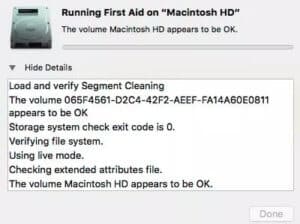 Boot into safe mode
Safe mode can also be known as Safe boot, which is basically used to check issues and fix them. This is a bug-free and also the simplest way to solve the exit code is 8 issue during the file system check. This can be done by following this simple procedure:
Boot the mac while holding shift throughout startup.
Sign in to the mac by entering its password.
After logging into your mac successful, start disk check. And wait for a while because it may take some time to complete.
After the disk check has completed and is successful in making the needed repairs, reboot your mac.
Run First Aid in Recovery Mode
While trying to check and fix errors, your Mac might not be able to complete the repairs due to the fact that some particular processes and functions are running. This may cause a simple issue where the repairs can't be made to the mac while its running. This is when recovery mode becomes a great choice. Which is why, the Mac is finally capable of fixing all types of errors. This can be done by following the given steps:
Reboot the Mac.
Press and hold cmd and R while booting.
Release the said keys when the device starts up, which will lead to your mac booting up into the recovery mode.
Now, go to disk utility and choose the required drive or partition and then select first aid.
This will fix any existing issues by default.
Reboot your mac.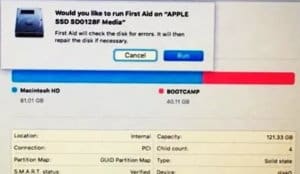 Try using fsck in Single User Mode
If the error code 8 has still not resolved, try booting your Mac in single user mode to run and execute the fsck command. This will definitely fix the corrupted file system. To try this, follow the given steps:
In order to boot your Mac in the single user mode, press and hold Cmd and S during the boot process.
This boots the Mac in single user mode that responds to text-mode terminals.
Enter "/sbin/fsck -fy"and press enter to start a system file check.
The command executes a thorough check of the system. And finally, shows a pop-up "volume Macintosh HD appears to be OK".
If some other issue arises during the file checking, there will be a pop-up indicating that the fsck command found some more errors while planning to repair the file system.
Now, the Mac must be rebooted by entering "reboot" and pressing enter.
This leads to system reboot and takes the user to the login screen.
I hope I could address all your queries and you can easily fix file system corruption error[error code 8]. If you have any further doubts, you can visit support.apple.com or you may leave a comment below. Also, please leave a like on the content if it was helpful.